Shining the light on back to school and work 
The kids are back at school, and you're back at work. You're prepared for the new year ahead – you have bought new stationery, books, clothes, and even lunchboxes. However, have you thought of updating your kid's floor or desk lamp, or your own for that matter? Good task lighting is a crucial part of studying and working – it can increase productivity, decrease eye-strain, and allow you to focus actively for longer periods of time.
As we age, our eyes also need higher quality and stronger light to function efficiently. Says Melissa Davidson from The Lighting Warehouse: "Good lighting is an essential element of any work area. Often even standard daylight isn't enough, especially if there's no direct sunlight shining on your workspace."
She says that the simplest way of illuminating a dark corner in any interior space is to add some atmospheric or task lighting with your choice of lamp: "At The Lighting Warehouse, we offer a wide variety of desk and floor lamps in a plethora of designs, shapes, colours, dimensions and lighting abilities. Our range of lamps will allow you to work more efficiently and in greater comfort. Whether you are reading, studying, paying bills, doing crafts or needlepoint, or if you just need to light up an otherwise dull space – The Lighting Warehouse has the perfect lamp for your needs."
Below: Jazz up your workspace with a Luca desk light, which is available in a variety of different colours, including white, blue, red, purple, antique brass and gunmetal.
Caption above (from left to right): The Luca desk lamp is available in blue (code: 19662), red (code: 19662), purple (code: 19663), white (code: 19662), antique brass (code: 19668), and gunmetal (code: 19669).
For reading in bed , one could also choose a Mikele or Marco LED flexi wall light which is task lamp incorporated into a wall light.
The Mikele flexi wall light is available in 3 finishes – Antique Brass (code: 21236), White (code: 21237), and Chrome (code: 21239). It boasts integrated LED lights, which come in warm white.
The Marco flexi wall light  is also available in 3 finishes – Antique Brass (code: 21234), White (code: 21235), and Chrome (code: 21238). It boasts integrated LED lights, which come in warm white.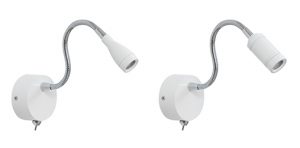 Floorlamps are portable and are a great source of general illumination – they can really help light up dark corners and larger rooms. Floor lamps can also act as an under-layer of light, creating task lighting right where you need it. Examples of how this works would be floor lamps next to your favorite reading chair or a floor lamp casting light down onto your desk.
Below: The Mother and Child or the Dad n Lad floorlamps boast two lights on the same upright, giving them a dual purpose – the first purpose is to operate as an uplighter for ambient lighting, and the second light operates as a source of task light. Both lights are separately operable.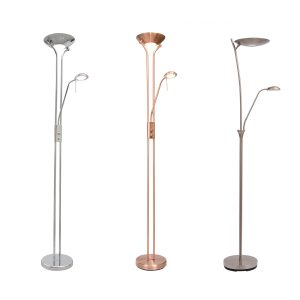 Caption above (from left to right): The Mother-and-child floorlamp is available in both chrome and antique copper (codes: 18731 and 21369). The Dad-and-Lad floorlamp is available in satin chrome (code: 19783).
Below: Other floorlamps offered by The Lighting Warehouse include angelpoise styles such as the Otis (available in black and grey), as well as the Franklin and Galileo floorlamps, which are really helpful in terms of moving light to where you need it most. Also, if your desk is quite small, it is sometimes better to rather have a standing lamp on the floor located next to your desk instead.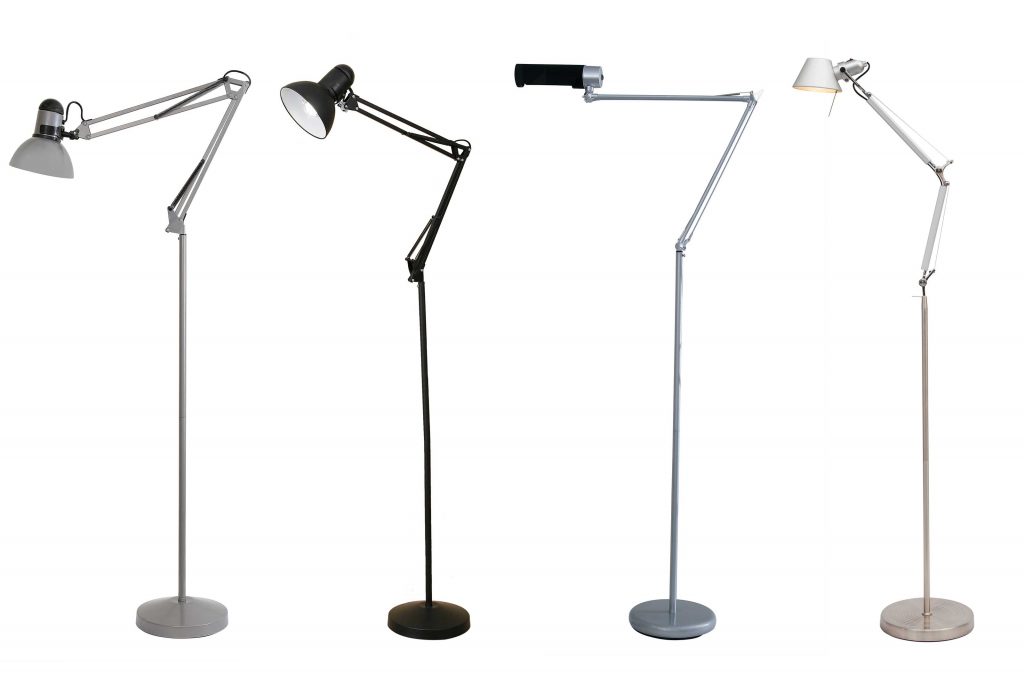 Caption above (from left to right): The Otis floorlamp is available in black (code: 14469) and grey (code: 14482). The Franklin floorlamp (code: 16788) and the Galileo floorlamp (code: 14482)
What globes to choose
The Lighting Warehouse's in-store sales consultants can advise on the best globe to use for a particular application. The Lighting Warehouse website (see more details below) also suggests globes for all desk and floor lamps featured on the website. There are different Kelvin colour white globes that give off either warm white or daylight white illumination. This choice is up to you. You can also choose globes with various wattages, depending on your required light output or preference – bright or not so bright. The Lighting Warehouse's most popular globe for desk and floor lamps is the A60 shape 10w LED globe. The Lighting Warehouse otherwise has the latest LED globes available which all generally have at least an 80% energy saving.
These desk and floor lamps are available from The Lighting Warehouse – visit www.lightingwarehouse.co.za to find a store closest to you or to shop online for these and more products visit:
https://lightingwarehouse.co.za/product-category/indoor/desk-lamps/
or:
https://lightingwarehouse.co.za/product-category/indoor/floor-lamps/
or: for the Marco and Mikele flexi LED wall lights :
www.lightingwarehouse.co.za/product-category/indoor/wall-lights/
Nationwide delivery for online orders over R500 is free.
E&OE. While stocks last. Globes are sold separately unless otherwise stated